Vendors who direct their customers to the Software Potential Manual Activation Website via a URL from their own domain (e.g. manualactivation.vendor.com) have the option to make limited customizations to the Software Potential template so the site's appearance is more consistent with the vendor's other web properties.
These customizations can include use of a company logo, favicon, colours and company specific error messages.
Setting Up a Custom URL
When the Manual Activation website loads a particular custom style, it does so based on the URL used to access the site. Therefore in order to enable custom styling you must initially:
Select a custom URL which will be used by your customers to access the customised Manual Activation site. This would typically use a new subdomain for your company domain, as in the example above.


Set up forwarding for this URL in the DNS settings for your domain. You will need to create a CNAME record for your selected subdomain/domain so that it points to http://manualactivation-sp.azurewebsites.net.


Advise us of the custom URL so that we can add the mapping to the Manual Activation website.
Specifying the Customizations
You can also provide a number of items to modify elements of the site (see screenshot below). These can include any of the following: :
A logo image to be added to the site header, supplied in .PNG format.


A favicon, which will appear in the browser's page tab, address bar or bookmarks. This should be supplied in .ICO format.


A customized error message to be displayed if the activation fails for any reason. This can be used to supply support contact details to the end user. This should be supplied in plain text.



If you are including an email address you may want to disguise the format slightly as a precaution against automatic email harvesting (e.g. "support at vendor dot com") as the text will appear on the site as supplied.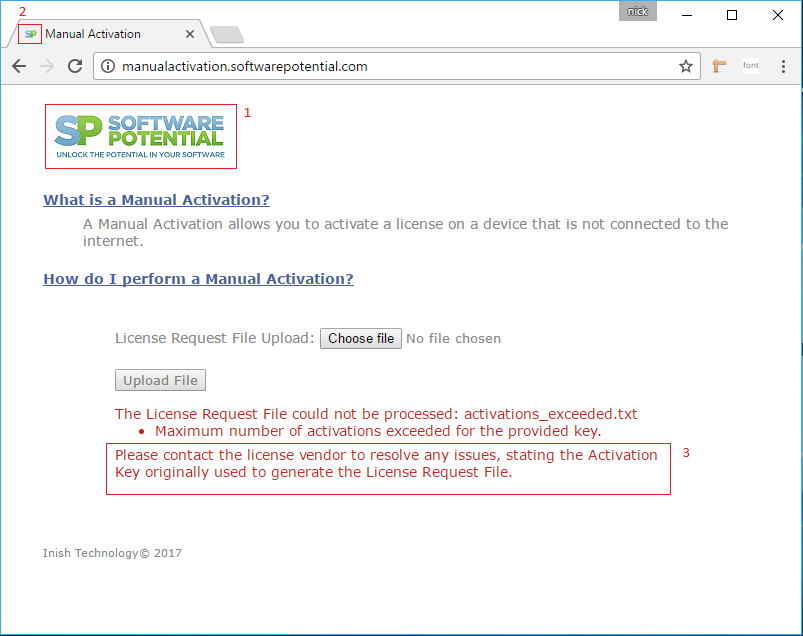 CSS Style Sheet
You can also provide a small CSS file to specify your company's colours or typography to be used in the site. This can override the style rules on the following classes used to layout the site as per the following screenshot:
header
content
page
error_messages
footer
A sample CSS file is attached below.